Applying for Egypt E-Visa online through us is this simple: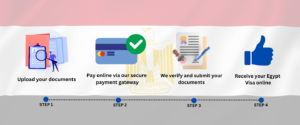 Simple steps to get an Egypt E-Visa:
E-Visa Xperts is your dedicated travel partner when it comes to hassle-free visa applications. Our team is committed to supporting you throughout your efforts to travel to your dream destination.
A dedicated visa expert is always present to address all your queries anytime and take you through the entire process of E-visa Application.
Here are the steps to apply for an Egypt E-Visa through E-Visa Xperts:
Step 1: Contact our Visa Expert with your travel plans and gather all the visa information and requirements.
Step 2: Pay your visa fee online and upload all your documents online through our secured online document locker to ensure confidentiality. If any additional documents are required we will get your documents picked up from your home or office.
Step 3: Our Visa Expert will verify, process, and submit your documents to the Embassy.
Step 4: Receive your Erypt E-Visa.
Documents required for Egypt E-Visa:
Must have Documents for Egypt E-Visa:
Original Passport with at least 6 months validity and minimum 3 blank pages + all old passports if any
Visa Application form: completed and signed
2 recent photographs: color photo with white background and matt finish(Photo Specification)
Personal Covering letter: explaining the purpose of travel to the country
Original Bank Statement: stamped & updated for last 6 months with bank seal
Air tickets: proof of return flight tickets from and back to your home country
Hotel reservation: proof of accommodation for your entire stay
Kindly note: The Government is very strict on the photograph requirement; please ensure that your photos are as per the specifications.
Supporting documents as per your occupation and type of visit:
Employment Visa:
– Leave Sanctioned Certificate: with company seal providing approval for leave
– Salary Slips: of the last 3 months
Self-Employed Visa:
– Business Proof: Registration License/MOA/Partnership deed
– Company Bank Statement: stamped & updated for the last 6 months with bank seal
– Company's Income Tax Returns: of the last 3 years
Minor's Visa:
– Birth Certificate: showing the names of both parents
– Legalized Letter of Consent (NOC): If the child is traveling with one parent, the letter of consent authorizing travel must be legalized by the other parent. If the child is traveling alone or without either parent, a notarized letter of consent from both parents permits travel.
– Death Certificate: in case one or both parents are deceased
– ID Proof: of parents
Visit a Friend or Relative:
– Invitation Letter: stating the relationship with the inviter and the purpose of visiting the country
– ID Proof of Inviter: Passport or Resident Permit
– Address Proof of Inviter: Utility bill
Sponsored Visa:
– Sponsorship Letter: sponsors need to provide the name of the visitors, the purpose of the visit, their relationship with the visitors, length of stay, dates of travel, and any other additional information if necessary
– ID Proof of Inviter: Passport or Resident Permit
– Address Proof of Inviter: Utility bill
– Proof of Financial Support: updated bank statement, pay slips
Business Visa:
– Invitation Letter: from the host company stating the purpose of the trip, business details, etc
– Business Covering Letter: from an Indian company on company letterhead
– Registration Certificate: of the Indian and host company
Basic Requirements to Visit Egypt
Have a valid Passport and valid Egypt E-Visa

Have sufficient funds to support yourself and all family members during your entire trip.

Thorough knowledge of your accommodation and itinerary details to furnish at immigration if asked to

Return flight tickets or onward flight tickets to ensure your return to your home country or your next destination once your visa expires

Adhere to the moral standards of the country and follow the general rules

Be in good health.
Travel Checklist
Passport with at least 6 months of validity

Valid Egypt E-Visa depending on the purpose of your visit and duration of stay

Confirmed return or onward tickets.

Details of accommodation.

Travel itinerary

Foreign currency

Any additional documents to support your purpose of visit, especially for business visa travelers

Have all documents authenticated before traveling
Upon arriving in Egypt, here are some important steps to follow:
Have Your Travel Documents Ready:
Keep your passport, visa, and any other required travel documents easily accessible for verification by immigration officers. Ensure that they are valid and in good condition.
Check Customs Regulations:
Familiarize yourself with the customs regulations of Egypt to ensure you are not carrying any prohibited items. Avoid carrying items that may be considered immoral or could cause a breach of the peace. This may include books, audiobooks, audio, and videotapes that could be deemed inappropriate.
Always carry your passport or a copy of it with you while traveling within Egypt. It is important to have proper identification available in case you need to show it for various purposes.
Know Emergency Helpline Numbers:
Note down important emergency helpline numbers for Egypt, including the local police, ambulance services, and embassy or consulate contacts. This will ensure you can quickly reach out for assistance if needed.
Familiarize Yourself with Local Laws and Customs:
Be aware of the general rules of conduct in public places and respect local laws and customs. Familiarize yourself with the cultural norms, dress modestly in religious and conservative areas, and be respectful of local traditions.
By following these guidelines, you can ensure a smooth and respectful experience upon your arrival in Egypt while adhering to local laws, customs, and health regulations.
Egypt Travel Guide: Explore the Ancient Beauty
Egypt is a country steeped in ancient history, vibrant culture, and breathtaking landmarks. Here's a travel guide to help you make the most of your visit to this fascinating destination.
Rich History and Landmarks:
Egypt is known for its ancient civilization and iconic landmarks. Don't miss the chance to visit the Great Pyramid of Giza, one of the Seven Wonders of the World. Explore the ancient temples of Luxor and Karnak, the Valley of the Kings, and the iconic Sphinx. Immerse yourself in the history of the Pharaohs and witness the remnants of their glorious past.
Best Time to Visit:
The peak tourist season in Egypt is from mid-October to May when the weather is milder. This is the perfect time to explore the country's attractions comfortably. However, if you want to avoid crowds and enjoy lower prices, consider visiting during the shoulder seasons of spring and autumn.
Language and Communication:
The official language in Egypt is Egyptian Arabic, but English and French are also widely understood, particularly in tourist areas. Learning a few basic Arabic phrases can enhance your interaction with locals and add to your cultural experience.
Transportation:
Egypt offers various transportation options to explore its cities and sites. Cairo, the capital, has an extensive transportation network, including maritime, railway, road, and subway systems. These networks make it convenient to navigate and explore different parts of the country.
Climate and Packing:
Egypt experiences hot summers, with temperatures reaching up to 45°C (113°F). Sunscreen is essential to protect yourself from the intense sun. However, winters can be cold, especially at night, so it's wise to pack warm clothing. Be prepared for fluctuating temperatures and varying weather conditions depending on the season and region you're visiting.
Travel Options:
Several airlines, such as Gulf Air, Air Arabia, Etihad Airways, and Egypt Airways, offer flights from India to Egypt. The average flight duration is around six hours, providing a relatively comfortable journey to this ancient beauty.
Egypt is a land of wonders, where the ancient past intertwines with modern life. Immerse yourself in the fascinating history, explore the vibrant cities, and embrace the warmth of Egyptian culture. Enjoy your journey through this extraordinary country and create memories that will last a lifetime.
Explore the Wonders of Egypt: Must-See Places and Experiences
Egypt, a land of captivating history and breathtaking landscapes, offers a wealth of sights and experiences for travelers. Here are some must-see places and activities to add to your itinerary:
The Great Pyramid of Giza and the Sphinx:
Start your journey in Cairo with a visit to the iconic Great Pyramid of Giza, the last remaining wonder of the ancient world. Marvel at the incredible architectural feat and the enigmatic Sphinx nearby, shrouded in mystery and history.
Luxor Temple and the Valley of the Kings:
In Luxor, immerse yourself in the awe-inspiring temples and tombs. Visit the Luxor Temple, a striking example of ancient Egyptian architecture. Explore the Valley of the Kings, where pharaohs were laid to rest in elaborate tombs adorned with intricate hieroglyphics.
Khan-el-Khalili Bazaar:
Experience the vibrant atmosphere of the Khan-el-Khalili Bazaar in Cairo. This bustling marketplace is a treasure trove of colorful textiles, spices, jewelry, and unique souvenirs. Get lost in the narrow alleys, bargaining with friendly vendors for a memorable shopping experience.
Cruise along the Nile River:
Embark on a Nile River cruise and witness the timeless beauty of Egypt. Sail past picturesque landscapes, ancient temples, and traditional villages. Relax on the deck, soaking in the enchanting views and immersing yourself in the tranquility of the river.
Aswan and the Nile:
Visit Aswan, a serene town nestled along the banks of the Nile. Take a traditional Fontucca boat ride and appreciate the beauty of the river. Explore the Philae Temple, an island sanctuary dedicated to the goddess Isis, and marvel at the High Dam, a modern engineering marvel.
Hurghada and the Red Sea:
For underwater enthusiasts, head to Hurghada, a resort town along the Red Sea coast. Dive into crystal-clear waters and explore vibrant coral reefs teeming with marine life. Enjoy a range of water activities, from snorkeling and diving to windsurfing and sailing.
Culinary Delights:
Indulge in the flavors of Egyptian cuisine. Savor kebabs, rice dishes, and mezze platters like baba ghanoush and falafel. Taste the aromatic spices and herbs that infuse their dishes, influenced by a blend of Mediterranean, Middle Eastern, and North African culinary traditions.
Egypt is a treasure trove of historical marvels, natural beauty, and cultural experiences. Immerse yourself in its rich heritage, explore ancient sites, and indulge in the vibrant flavors of its cuisine. Let Egypt's wonders leave an indelible mark on your travel memories.
Egypt Facts and Figures
Name: Arab Republic of Egypt
Location: Middle East, North Africa
Capital: Cairo
Time: IST (-) 3 1/2 hrs
Language: Arabic, English, and French
Area: 1,002,000 sq km
Population: 97,041,072 (July 2017 est.)
Currency: Egyptian Pound (EGP). 
National Day: 22 February 
Main Airlines: Air Arabia Egypt E5, Air Cairo CE, Egypt Air MS
International Airports: 
Luxor (LXR), 
Cairo International (CAI), 
El Nouzha (ALY)
Best Time to Visit: October to April
You can also visit Travel Visa Xperts for offline conventional visa processing or you can also contact us