Simplify Your Tanzania E-Visa Application Process with E-Visa Xperts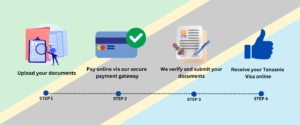 Simple Steps to Get Tanzania E-Visa:
E-Visa Xperts has been a part of more than one thousand travel dreams. We offer quick and hassle-free Tanzania e-visa assistance. With a highly professional and dedicated team of Visa Experts, we are here to help you with all your Tanzania e-visa application requirements. You will have a dedicated visa expert handling your application throughout your visa process.
Here are the steps to apply for a Tanzania e-Visa through E-Visa Xperts.
Step 1: Check Our Tanzania e-Visa website page with your travel plans and gather all the Tanzania e-Visa information and requirements.
Step 2: Pay your Tanzania e-visa fees online and upload all your documents online through our secured online document locker to ensure their confidentiality
Step 3: Our Visa Expert will thoroughly verify your documents and process your Tanzania E-visa online.
Step 4: Receive your Tanzania E-Visa online.
Documents required for Tanzania E-Visa:
Must have Documents for Tanzania Visa  :
Scanned copy of the first and last page of your passport

2 Scanned recent color photographs. (Photo Specification);

Confirmed return flight ticket

Hotel Reservation or Invitation letter (If visiting family or friends)

Birth Certificate for children

A work contract or any proof of the work/assignment to be performed within a period not exceeding three months

Enough funds to support the entire trip to Tanzania
Note: The Embassy/Consul General has the right to request additional information or documents and a personal interview with the applicant.
Supporting Documents Based on the Purpose of Your Visit:
If Employed:
   – Leave Sanctioned Certificate: Must have company seal and approval for leave.
   – Salary Slips: The latest 3 months' salary slips.
If Self-Employed:
   – Business Proof: Such as Registration License, MOA, or Partnership Deed.
   – Company Bank Statement: Stamped and updated for the last 6 months with a bank seal.
   – Company's Income Tax Returns: For the last 3 years.
If Retired:
   – Retirement Proof: This may include a pension book or statement.
If a Student:
   – Student ID Card: From your school, college, or institute.
If a Minor:
   – Birth Certificate: Showing the names of both parents.
   – Legalized Letter of Consent (NOC): Required if the child is traveling with one parent, both parents or alone.
   – Death Certificate: If applicable (one or both parents are deceased).
   – ID Proof of Parents.
If Visiting Friends or Relatives:
   – Invitation Letter: Must state the relationship with the inviter and the purpose of visiting Algeria. The inviter should ensure responsibility for housing and related expenses during the guest's stay.
   – ID Proof of Inviter: Passport or Resident Permit.
   – Address Proof of Inviter: A utility bill.
If Sponsored:
   – Sponsorship Letter: Providing visitor details, purpose of the visit, relationship with the visitors, length of stay, travel dates, and any other necessary information.
   – ID Proof of Inviter: Passport or Resident Permit.
   – Address Proof of Inviter: A utility bill.
   – Proof of Financial Support: An updated bank statement and pay slips.
For Business Visa:
   – Introduction/Recommendation Letter: From one of the following entities:
     – Chamber of Commerce and Industries, government of India.
     – Ministry of Commerce and Industry of India.
     – Export Promotion Council of India.
     – Reference number from Ministry of Foreign Affairs, Tanzania.
   – Registration Certificate of the Company: Issued by the Ministry of Commerce and Industry of India.
   – Income Tax Documents: For the last three years.
   – Letter from the Company: Addressed to the embassy, introducing the businessperson for visa issuance.
   – Invitation Letter: From the local partner or prospective local partner company in Tanzania.
   – Copy of the License (JAWAZ): Of the local partner or prospective local partner company in Tanzania.
This revised list should make it clearer and more concise for applicants to understand the documentation requirements for their specific type of visit to Tanzania.
Some Basic Requirements to Visit Tanzania
Valid Passport and Visa:
   – You must have a valid passport with at least six months of validity remaining from your planned date of departure.
   – Obtain the appropriate Tanzania e-visa based on your purpose of visit (e.g., tourist visa, business visa) before your trip. Ensure that your visa remains valid for the duration of your stay.
Good Health:
   – It's essential to be in good health when traveling to Tanzania. Ensure that you are physically fit to embark on your journey.
Good Moral Character:
   – Maintain good moral character and conduct yourself in a respectful and responsible manner while in Tanzania. Abide by the local laws and customs.
Accommodation and Itinerary Details:
   – Have a clear understanding of your accommodation arrangements and travel itinerary. Be prepared to provide these details if requested by immigration authorities upon arrival.
Return or Onward Flight Tickets:
   – Possess return flight tickets or onward flight tickets that demonstrate your intention to leave Tanzania when your visa expires. This is typically required as evidence of your plans to depart the country.
Adherence to Local Standards:
Respect and adhere to the moral and cultural standards of Tanzania. Familiarize yourself with local customs and traditions to ensure you have a culturally sensitive and respectful visit.
Follow General Rules:
Comply with the general rules and regulations of Tanzania, including but not limited to immigration and customs procedures. Abide by the country's laws and respect the environment and wildlife in national parks and conservation areas.
Please Note that these are the fundamental requirements for visiting Tanzania. Depending on your specific circumstances, such as the purpose and duration of your stay, additional documentation or permits may be necessary. It's advisable to check with the Tanzanian Embassy or Consulate in your home country and conduct thorough research before your trip to ensure you have all the required documentation and meet any specific entry requirements.
Your Final Travel Checklist for Tanzania:
Before You Leave check:
Passport

: Ensure your passport has at least 6 months of validity remaining from your planned departure date.

Tanzania e-Visa:

Obtain the appropriate Tanzania e-visa based on the purpose of your visit and the duration of your stay.

Flight Tickets:

Confirm your return or onward flight tickets, which may be required as proof of your intention to leave Tanzania.

Accommodation Details:

Have the details of your accommodation ready, including reservation confirmations.

Travel Itinerary:

Prepare a detailed travel itinerary with information on your planned activities and destinations.

Foreign Currency:

Carry sufficient foreign currency or payment methods (credit/debit cards) to cover expenses during your stay.

Additional Documents:

Depending on your purpose of visit (especially for business travelers), carry any additional documents that support the reason for your trip.

Document Authentication:

Ensure that all necessary documents are properly authenticated and legalized before traveling.
What To Do Upon Arrival in Tanzania:
Keep Documents Ready:

Keep all your travel documents, including passport, visa, flight tickets, and accommodation details, readily accessible for verification by immigration officers.

Customs Restrictions:

Be aware of customs regulations and avoid carrying prohibited items. This includes items that could be considered immoral or might disrupt public peace.

Carry Passport:

Always carry your passport or a copy of it with you while traveling within Tanzania. It serves as your primary identification document.

Emergency Numbers:

Note down emergency helpline numbers in Tanzania, including local authorities and your country's embassy or consulate.

General Conduct:

Familiarize yourself with the general rules of conduct in public places in Tanzania. Show respect for local customs and traditions, and be mindful of cultural sensitivities.
By following this checklist and staying informed about local regulations and customs, you can have a safe and enjoyable experience when traveling to Tanzania. Always plan ahead and ensure you have all the necessary documents and information to make your trip a memorable one.
The Ultimate Travel Guide to Tanzania
Tanzania, often referred to as the land of safaris, beckons adventure seekers with its incredible wildlife and natural beauty. Situated in East Africa, this captivating country boasts 16 national parks, 29 game reserves, 40 controlled conservation areas, and marine parks, covering about 38% of its land area for conservation purposes. Tanzania is a haven for those seeking an exhilarating experience in untouched and pristine nature.
1. Wildlife Adventure:
   Tanzania offers a diverse range of wildlife experiences. With a plethora of national parks and game reserves, visitors can witness a breathtaking array of exotic animals in their natural habitats. The famous Serengeti National Park, Ngorongoro Crater, and Selous Game Reserve are just a few of the many gems in Tanzania's wildlife treasure trove.
2. Mount Kilimanjaro:
   Mount Kilimanjaro, a UNESCO World Heritage site and Africa's highest peak lures adventure enthusiasts and mountaineers. Rising from 4,877 meters at its base to an awe-inspiring 5,895 meters above sea level, conquering this majestic summit is a once-in-a-lifetime achievement.
3. Best Time to Visit:
   The ideal times to visit Tanzania depend on your preferences. For safaris and climbing Mount Kilimanjaro, plan your trip between July and October or January to March. If you're looking to explore Tanzania's coast, islands, and Zanzibar, the best period is from August to October.
4. Cultural and Language Harmony:
   Tanzania embraces diversity, offering a harmonious blend of cultures and languages. While Swahili is the predominant language, English and various international languages are widely spoken, ensuring a smooth and enjoyable travel experience, especially in major shopping centers, tourist hubs, and beaches.
5. Traveling to Tanzania:
   Although direct flights from India to Tanzania are not available, numerous flights with one connecting stop provide convenient access. While flying within Tanzania is the quickest and most comfortable option, buses and dala-dalas (minibusses) offer safer, quicker, and cost-effective travel between towns and cities. Driving yourself or traveling by train (unless in first class) is not recommended.
6. Transportation Within Tanzania:
   – Air Travel: Quick and comfortable for those who can afford it.
   – Road Travel: Buses and dala-dalas offer safe and affordable transportation.
   – Urban Transport: Public transportation like buses, taxis, dala-dalas, bicycles, and tuk-tuks are available in cities, ensuring easy mobility.
Tanzania, with its extraordinary landscapes, vibrant wildlife, and warm hospitality, promises an unforgettable adventure. Whether you're a nature enthusiast, an adventure seeker, or a cultural explorer, Tanzania has something to offer for everyone. Plan your trip and immerse yourself in the wonders of this diverse and captivating country.
Things to See and Do in Tanzania:
Tanzania is a diverse and enchanting destination offering a wide range of experiences for travelers. Here are some of the top attractions and activities to explore in this East African gem:
1. Serengeti National Park
:
   – Witness the stunning wildlife and the annual Great Migration in one of the world's most famous national parks.
2. Mount Kilimanjaro:
   – Embark on an epic adventure to climb Africa's highest peak, Mount Kilimanjaro, a UNESCO World Heritage site.
3. Zanzibar's Stone Town:
   – Explore the historical and culturally rich Stone Town, a UNESCO World Heritage site, known for its labyrinthine streets and Swahili architecture.
4. Ngorongoro Conservation Area:
   – Visit the Ngorongoro Crater, a natural wonder and a haven for diverse wildlife, including the Big Five.
5. Rubondo Island National Park:
   – Discover the unspoiled wilderness of Rubondo Island, located in Lake Victoria, offering unique birdwatching and fishing opportunities.
6. Selous Game Reserve:
   – Experience a more off-the-beaten-path safari in Selous Game Reserve, known for its diverse ecosystems and boat safaris.
7. Cultural Encounters:
   – Engage with the friendly and dignified Tanzanian people. You may have the chance to witness traditional dances and interact with locals in ethnic costumes.
8. Diving and Marine Life:
   – Explore the vibrant marine life of Tanzania by diving in coral reefs. Witness underwater wonders and colorful marine wildlife.
9. Historical Ruins and Rock Art:
   – Discover historical ruins such as the ruins of Kilwa Kisiwani and Songo Mnara, as well as ancient rock art sites.
10. Outdoor Adventures:
    – Engage in various outdoor activities like hiking, trekking, and swimming in the picturesque landscapes of Tanzania.
11. Adventure Sports:
    – Enjoy adventure sports, such as paragliding, hot air ballooning, and kite surfing along the Indian Ocean coast.
Tanzania's rich natural beauty, diverse wildlife, cultural heritage, and outdoor adventures make it an extraordinary destination for travelers seeking unique and unforgettable experiences. Whether you're an adventurer, a wildlife enthusiast, or a cultural explorer, Tanzania has something to offer everyone, making it a destination well worth exploring.
Tanzania Facts and Figures
Region: East Africa
Major cities: Dar es Salaam, Mwanza, Arusha, Dodoma, Mbeya
National Day: December 9
Capital: Dodoma City
Time in Tanzania: IST (-) 2.30 hours
Language: Swahili (official) and English (de facto), Arabic (in Zanzibar)
Area: 945,087 km²
Currency: Tanzanian Shilling (TZS)
Main Airlines: Air Tanzania
International Airports: Julius Nyerere International Airport (DAR), 
Kilimanjaro International Airport (JRO), 
Abeid Amani Karume International Airport (ZNZ), 
Mwanza Airport (MWZ)
Best time to visit: June to October
You can also visit Travel Visa Xperts for offline conventional visa processing or you can contact us