Applying for Thailand E-Visa online through us is this simple: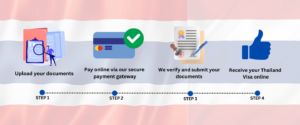 Simple steps to get a Thailand Visa:
E-Visa Xperts has been a part of more than one thousand travel dreams. We offer a superior, quick, and hassle-free Thailand Visa for Indians. With a highly professional and dedicated team of E-visa Experts, we are here to help you with all your Thailand visa requirements.
Throughout your visa process, you will have a dedicated visa expert handling your application.
Here are the steps to apply for a Thailand E-Visa online through E-Visa Xperts:
Step 1: Provide your travel details to our Visa Expert and get your queries answered.
Step 2: Pay your Thailand visa cost online and upload your documents online.
Step 3: Our Visa Expert will thoroughly check the Thailand visa requirements, verify your documents and process your Thailand e-visa online.
Step 4: Receive your Thailand e-Visa for Indians.
Documents required for Thailand Visa for Indians
Must have Thailand e visa Documents:
Scanned color copy of the first and last page of your valid Passport;
Scanned color copy of your passport-size photograph with white background;
Confirmed onward & return flight ticket;
Accommodation proof in Thailand
Basic Requirements to Visit Thailand
Have a valid Passport and valid Thailand Tourist Visa for Indians;

Be in good health;

Good moral character;

Be able to convince the immigration officer that you have your family, property, assets, etc. that would serve as an incentive to come back to your home country;

Be able to convince the immigration officer that you will leave the country before your Thailand visa for Indians expires;

Have sufficient funds to support yourself in Thailand and the amount depends on how long you will stay in Thailand and whether you will be staying with family, friends, or any paid accommodation.
Travel Checklist
Passport;

Valid Thailand Visa for Indians;

Confirmed return Ticket;

Contact details of your relative, friend, or business contact in Thailand;

Confirmed hotel bookings (If Any);

Thailand Currency and other forms of forex;

An unlocked smartphone, preferably with a Sim card from India;

Any additional documents required to prove your purpose of visit (especially if you are traveling on a business Visa).
What to do when you arrive in Thailand
Keep your Declaration form in hand (provided to you on the flight);
Keep all travel documents (passport, valid Thai Visa, return ticket, hotel bookings, etc.) ready in case the immigration officer asks to produce any document;
If you are an unaccompanied minor, make sure you stay with the flight attendant who is in charge of your safety. Additionally, you must recognize the adult picking you up at the airport. If you have any doubts, you must inform the airline staff immediately.
Thailand Travel Guide
Welcome to the enchanting Land of Smiles, Thailand! With its friendly locals, stunning beaches, and mouthwatering cuisine, Thailand truly lives up to its reputation as a tourist-friendly destination. While the majority of the locals speak Thai, English is also widely spoken in tourist areas, making it easier for travelers to communicate and get around.
A typical Thai itinerary involves indulging in delectable cuisine that draws foodies from all over the world. From street food stalls to fine dining restaurants, Thailand offers a culinary adventure like no other. After satisfying your taste buds, you can unwind on the beautiful beaches, where you can enjoy water sports during the day and join lively parties at night. 
We know you are now eager to obtain a Thailand visa and explore this sandy paradise as soon as possible. With its breathtaking natural landscapes, luxurious accommodations, and wide range of activities to enjoy, Thailand is undeniably one of the best travel destinations on the globe.
Geographically, Thailand is located in the heart of the Southeast Asian mainland, covering a vast area. It shares borders with neighboring countries such as Laos, Myanmar, Cambodia, and Malaysia. The country's tourism industry plays a significant role in its economy, attracting millions of visitors each year.
Thailand offers an array of attractions for travelers. You can bask in the beauty of its picturesque beaches and explore stunning islands. Dive into the crystal-clear waters or simply relax and soak up the sun. The country is also known for its rich wildlife, with national parks and reserves that provide opportunities for wildlife encounters and eco-adventures.
If relaxation is what you seek, Thailand is home to numerous spas and wellness resorts where you can rejuvenate your body and mind. The capital city, Bangkok, is a shopaholic's paradise, offering a wide range of retail options from local markets to high-end malls. For those with a sense of adventure, backpacking through the countryside allows you to discover hidden gems and experience the local way of life.
Thailand's climate is tropical, with hot, rainy, and cool seasons. The warm weather, surrounded by lush tropical jungles, attracts tourists throughout the year. Regardless of your budget or preferences, Thailand caters to all types of travelers. Whether you're a budget backpacker or a luxury seeker, an adrenaline junkie, or a beach lover, Thailand has something to offer everyone.
So, pack your bags, prepare to experience the warmth of Thai hospitality, and embark on an unforgettable journey through this diverse and captivating country. Thailand awaits you with open arms, ready to immerse you in its vibrant culture, stunning landscapes, and unforgettable experiences.
Places to Visit in Thailand
Thailand offers a multitude of incredible places to visit. Here are some popular destinations worth exploring:
1. Bangkok:
The vibrant capital city is a bustling metropolis known for its ornate temples, vibrant street markets, and modern shopping malls. Don't miss the Grand Palace, Wat Arun, and the floating markets.
2. Chiang Mai:
Located in the mountainous region of northern Thailand, Chiang Mai is famous for its ancient temples, rich cultural heritage, and traditional festivals. Explore the Old City, visit Wat Phra That Doi Suthep, and indulge in the famous Thai massage.
3. Phuket:
Thailand's largest island offers stunning beaches, crystal-clear waters, and vibrant nightlife. Enjoy water sports, visit the Big Buddha, explore the Phi Phi Islands, and indulge in delicious seafood.
4. Krabi:
Known for its breathtaking limestone cliffs and turquoise waters, Krabi is a paradise for beach lovers and adventure enthusiasts. Take a boat tour to the famous Railay Beach, go rock climbing, and explore the stunning islands of the Andaman Sea.
5. Ayutthaya:
A UNESCO World Heritage Site, Ayutthaya is an ancient city filled with historical ruins and temples. Visit the Ayutthaya Historical Park and witness the grandeur of this former capital of Thailand.
6. Pattaya:
A popular beach resort city, Pattaya offers a mix of relaxing beaches, water sports activities, and vibrant nightlife. Visit the Sanctuary of Truth, explore the Coral Islands, and experience the famous Walking Street.
7. Koh Samui:
This tropical island in the Gulf of Thailand is known for its palm-fringed beaches, luxury resorts, and lively nightlife. Relax on Chaweng Beach, visit the iconic Big Buddha, and explore Ang Thong Marine Park.
8. Sukhothai:
Another UNESCO World Heritage Site, Sukhothai is home to the ruins of the ancient capital of the Kingdom of Sukhothai. Explore the historical park and admire the well-preserved temples and Buddha statues.
9. Hua Hin:
A popular seaside resort town, Hua Hin offers beautiful beaches, golf courses, and a relaxed atmosphere. Visit the Hua Hin Railway Station, explore the Klai Kangwon Palace, and indulge in fresh seafood.
10. Pai:
Nestled in the mountains of northern Thailand, Pai is a laid-back town known for its natural beauty, hot springs, and waterfalls. Explore the Pai Canyon, visit the Tha Pai Hot Springs, and enjoy the vibrant night market.
These are just a few highlights of the many incredible destinations Thailand has to offer. Each region has its own unique charm, allowing you to tailor your trip to suit your interests, whether it's beach relaxation, cultural exploration, or adventure activities. Apply for Thailand E-Visa online on the E-Visa Xperts website.
Thailand Facts and Figures
Name: Thailand
Location: South East Asia
Time: IST (+) 1 ½ hours
Capital: Bangkok
Major cities: Bangkok, Chiang Mai, Hat Yai, Pattaya
Language: Thai, English (secondary language of the elite), ethnic and regional dialects.
Area: 513,115 sq km
Population: 68,414,135
National Day: 05 Aug
Currency: Baht (THB)
Main Airline: Thai Airways
International Airports: 
Suvarnabhumi Airport
Hat Yai (HDY)
Phuket (HKT)
Chiang Mai (CNX)
Don Muang (Bangkok) (BKK)
Best time to visit Thailand: Thailand is an all-year-round destination but the best time to visit Is between November to April.
You can also visit Travel Visa Xperts for offline conventional visa processing or you can contact us