Introduction: Winter Wonderland Destinations
As the mercury dips, now is the ideal moment to turn your thoughts towards a winter wonderland getaway.
The most enchanting snow holidays encompass all the ingredients for a frosty retreat, from breathtaking landscapes to snug hideaways where you can find solace in the warmth.
For those in search of destinations where snow blankets the landscape during the chilliest months, we're here to guide you with our selection of the top Worldwide Snowy Mountain Escapes or snowy getaways to explore this winter.
With thick blankets of powdery snow to traverse, majestic peaks to carve down on skis, or Chasing Snowflakes around the mountain and then charming hotels awaiting your return after a day of adventure, In this article, we have comprised few of the places that transform into breathtaking winter wonderlands all over the world.
Where Snowy Adventures Meet Urban Excitement
If you seek a spirited and snow-covered destination, Tromso delivers the perfect blend of both. During the winter season, Tromso comes alive with a medley of thrilling experiences. You can marvel at the celestial spectacle of the Northern Lights, explore the iconic Arctic Cathedral, and embark on exhilarating dog-sledding escapades through the pristine snowscapes. This Arctic city beckons you to bundle up warmly and immerse yourself in its vibrant urban atmosphere, mingling with the friendly locals. Savor delectable seafood, partake in seasonal festivals, and cozy up in the city's charming restaurants and cafes. Tromso offers a winter adventure like no other.
2. Swiss Alps, Switzerland:
A Sophisticated Snowy Retreat
Indulge in the epitome of a refined snowy getaway by venturing to Switzerland, where the breathtaking Swiss Alps beckon. Enveloped in snow-draped forests, crowned by frost-kissed peaks, and dotted with shimmering lakes, this destination is a picturesque setting to embrace the winter season. To truly savor the Swiss Alps in all their winter glory, consider embarking on a journey aboard the Glacier Express, an iconic scarlet train renowned as one of the world's most leisurely express rides.
Where Snow-Covered Splendor Beckons
Enveloped in pristine powder, the Dolomites, with its 86-mile Great Dolomites Road, often lauded as one of the world's most stunning drives, stands as a testament to Italy's natural beauty, particularly in winter. This breathtaking region showcases jagged peaks and sweeping slopes, making it a haven for snow enthusiasts. Whether you're seeking heart-pounding skiing adventures in Cortina, Arabba, or Selva Gardena, or yearning for the charm of picturesque villages like Colfosco, Corvara, and San Cassiano—each reminiscent of a fairytale setting—the Dolomites promises a snow-dusted paradise that will linger in your memory.
Winter Magic in Nature's Wonderland
Yosemite National Park boasts awe-inspiring vistas year-round, but its enchantment reaches its zenith during the winter months. Towering granite cliffs and majestic redwood giants become canvases for Mother Nature's snowy artistry, transforming the landscape into a glistening wonderland. The winter days here are brimming with activities to captivate visitors. Glide down the slopes of Badger Pass on skis or a snowboard, or opt for a serene stroll along the Valley Loop Trail, where each step is a journey into pristine tranquility. Your memories of this winter wonderland will linger long after your visit.
The Ultimate Snowy Frontier
In the realm of icy landscapes, none can rival the pristine wilderness of Antarctica, aptly referred to as the 'white continent.' Here, you'll encounter more penguins than people and immerse yourself in an otherworldly experience found nowhere else on Earth. As an exceptional winter holiday choice, your Antarctic journey begins with the vibrant rhythm of Buenos Aires before embarking on a remarkable cruise across the dramatic Drake Passage. This remarkable adventure leads you into a realm of breathtaking glaciers, majestic icebergs, and thriving wildlife. If you're in search of an unparalleled and unique snow holiday, Antarctica beckons as the ultimate destination for intrepid explorers.
Winter Wonders in the Highest Peaks
While the charming town of Rila offers a delightful visit, the true allure of this destination in winter lies within the majestic Rila Mountains—the loftiest in Bulgaria and the entire Balkan Peninsula. The captivating image above captures the panoramic view from Mt. Musala, the pinnacle of this mountain range, rising to nearly 3,000 meters in elevation.
For winter enthusiasts, the northwestern region of Rila is a must-visit. Here, you can bask in the beauty of the Seven Rila Lakes, a natural wonder, and explore the iconic Rila Monastery, steeped in cultural and historical significance. The Rila, with its snowy landscapes, promises an enchanting alpine experience that beckons to be discovered and cherished.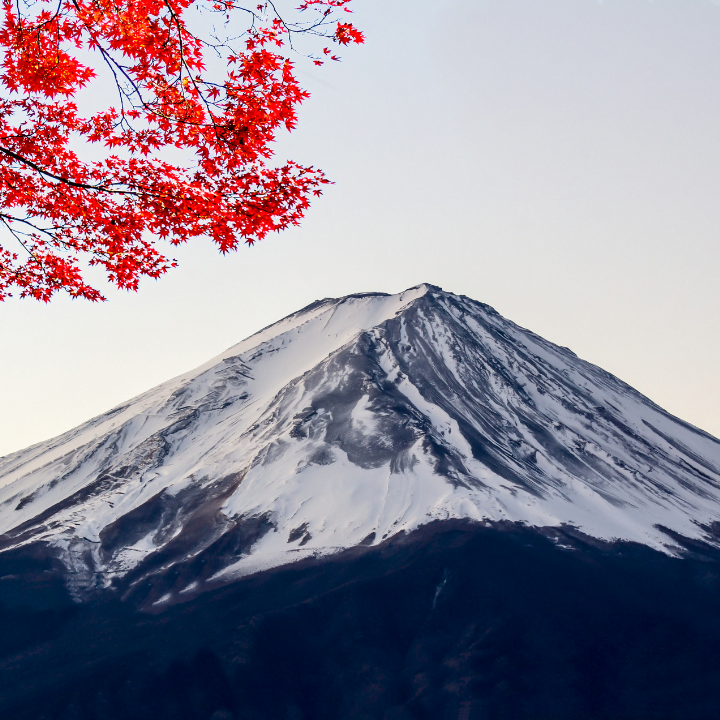 While Japan might not be the first place that comes to mind for winter vacations, it's truly a remarkable snowy destination waiting to be discovered. The Land of the Rising Sun offers a plethora of winter activities that cater to all interests.
From savoring delicious barbecue at the Kitami Yakiniku Festival to exploring the captivating landscapes along the Tadami River in Fukushima, there's no shortage of scenic wonders to behold. The Sapporo Snow Festival, a true winter spectacle, captivates with its intricate ice sculptures and vibrant atmosphere. And for those seeking the thrill of skiing, Japan's world-class slopes are a haven for snow enthusiasts.
New Year's in Japan is an experience like no other, where ancient traditions blend seamlessly with modern illuminations. The Tokyo Michi Terrace and the Marunouchi Illumination, bathed in captivating light displays, create a mesmerizing backdrop for your winter journey. Don't miss the opportunity to embark on a Japan tour this winter and uncover the hidden gem that is Japan in its snowy splendor.
While Scotland's snowfall can be capricious, a winter sojourn in the Highlands offers a captivating experience. The season brings fewer travelers, granting you a sense of solitude amidst the stunning landscapes. To make the most of your trip, prudent planning is essential, ensuring that your desired activities are attainable.
For those seeking a winter walking holiday, the Highlands beckon with open arms. Make sure to include your camera in your packing list, as the vistas you'll encounter are nothing short of breathtaking. With its serene beauty and a hush that blankets the land, the Scottish Highlands in winter is an enchanting canvas waiting to be explored and captured.
A Snowy Wonderland Awaits
Iceland is a treasure trove of wonders for those seeking a snowy holiday, but the southern reaches of the country hold some of the most awe-inspiring gems. Here, amidst the winter's embrace, you'll discover the majestic Skogafoss waterfall, the soothing Seljavallalaug Outdoor Pool, the mystical Reynisfjara Black Sand Beach, and the enchanting Fjaorargljufur Canyon—each a must-see in the southern winter landscape. 
To complete your Icelandic winter adventure, retreat to one of the country's finest accommodations, such as Hotel Ranga, where you can savor cozy comfort before your eagerly anticipated Northern Lights spectacle. Iceland's South Coast is a haven for snow enthusiasts and nature lovers alike.
10. Prague, Czech Republic:
Embrace the Festive Magic
For a festive escape that brims with Christmas spirit, look no further than Prague. While snowfall may keep you guessing, the city's yuletide charm is unrivaled. An absolute must during your visit is strolling through the Christmas Markets, where you'll find traditional gifts and handicrafts showcased in brightly adorned wooden stalls. Picture yourself with a steaming cup of delectable hot mulled wine and a trdelník (warm sugar-coated pastry) in hand as you soak in the enchanting atmosphere. It's an experience that will have you booking your flights to Prague without a second thought.
A Winter's Cultural Extravaganza
While Russia may not be the first destination that springs to mind for winter vacations, this year, it's an exceptional choice you shouldn't overlook. In January, the Russian Orthodox Church ushers in Christmas with joyful celebrations that invite everyone to partake in the festivities. Moscow, with its post-holiday charm, is the ideal destination for an enchanting "after-the-holidays" trip.
Join the On Ice group tours in St. Petersburg to explore this historic city's winter wonders, pay a visit to the mystical Winter Palace, and make sure to experience "The Nutcracker" in the very place where it became the beloved fairytale spectacle it is today—the Mariinsky Theatre. Moscow, during the winter season, is a cultural extravaganza waiting to be savored and cherished.
A Winter's Enigmatic Charm
When you think of Turkey, images of sun-soaked beaches and azure waters often come to mind. However, don't underestimate the allure of the winter season. In central Anatolia, the historical region of Cappadocia transforms into a magical and mysterious wonderland when cloaked in a pristine blanket of snow. 
With its surreal honeycombed hills and extraordinary architecture, Cappadocia's winter landscape feels like a journey to another world, perhaps even the moon itself. Embrace the enigmatic charm of Cappadocia during winter, and you'll discover a side of Turkey that's as mesmerizing as its summer counterpart.
Where Snow Dreams Come True
For those seeking an assurance of snow, Whistler is an unrivaled choice. Pictured above is the picturesque Whistler resort town, nestled just 20 miles from Vancouver. Boasting the largest skiable terrain in North America, Whistler spans a staggering 8,000 acres across two magnificent mountains. Its snow-covered splendor was so exceptional that it co-hosted the prestigious 2010 Winter Olympics. If it's deemed fit for Olympic athletes, it's undoubtedly perfect for your Christmas break—a snow lover's dreamland awaiting your arrival!
A Snowy Fairytale Wonderland
No list is complete without a nod to Lapland. Nestled deep within the Arctic Circle, this Finnish fairytale destination is tailor-made for unforgettable family holidays or enchanting romantic winter getaways. Imagine snug log cabins with crackling fires, endless vistas of snow-draped forests, and a multitude of reindeer frolicking in the pristine landscapes.
For the young and young at heart, Lapland offers a treasure trove of delights, from visits to Santa's enchanting grotto to exhilarating sleigh rides and thrilling husky sledding adventures. With an abundance of snow at your disposal, you can craft an army of snowmen to your heart's content. Lapland is where snowy dreams come alive, making it the ultimate winter wonderland.
These winter destinations offer unique and enchanting experiences that will make your winter vacation truly unforgettable. So, instead of sticking to the tourist traps during the summer, consider exploring one of these magical winter getaways around the world.
Here, you can also check our E-Visa countries of Your Dream Travel Destination for which you can Apply Visa Online through our portal.