Most Beautiful Mountains In The World: A Breathtaking View of Mountains and Clouds
Introduction: The World's Most Beautiful Mountains
Mountains, Natural magnificence personified, possess a unique allure. Their icy peaks and tranquil landscapes possess the power to Invigorate the thought process and rejuvenate the spirit. The crisp mountain air is a remedy for multiple health conditions, making these lofty wonders a haven for those seeking adventure and Calmness that suits everyone. It's not a surprise that natural marvel like mountains consistently find their place on the bucket lists of countless travel enthusiasts.
With their unmatched attraction in mind, let's embark on a journey to explore some of the most awe-inspiring mountains the world has to offer. However, as you plan your expedition to these stunning mountain landscapes, check out our E-Visa countries of Your Dream Travel Destination to ensure a hassle-free journey of your mountain adventure.
Explore The Breathtaking Mountain and Cloud Views
Journeying to the mountains, whether they're shrouded in mystical clouds or adorned with pristine snow and Breathtaking panoramas, guarantees the creation of indelible memories. The unhurried or slow-paced life in mountainous landscapes not only rejuvenates the soul but also provides a fresh outlook on life itself.
In recognition of these extraordinary gifts bestowed upon us by elevated terrains, let's embark on a voyage to explore some of the planet's most enchanting mountains Views:
1. Mount Olympus, Thessaloniki, Greece
Eternal Ascent: Unveiling the Myths and Majesty
Mount Olympus comprises a breathtaking range of 52 mountains, with the loftiest peak being Mytikas, soaring to a height of 9,570 feet. Its towering elevation and enchanting beauty have Traditionally infused it with the mythological distinction of being the residence of the Greek gods.
These majestic peaks, often veiled by ethereal fog or embraced by low-hanging clouds, and occasionally beset by tempests, continue to evoke the same sense of wonder that captivated the ancients. Commanding panoramic vistas across Northern Greece, Mount Olympus can be glimpsed from the city of Thessaloniki, a remarkable 53 miles away.
Nestled within the embrace of a national park and bestowed with the distinction of being a World Biosphere Reserve, Olympus is renowned for its lush and diverse flora, making it an exemplar of natural beauty among Greek mountains. Furthermore, it serves as a haven for wildlife enthusiasts, hosting more than 30 species of Mammals, 18 species of Reptiles, and an astonishing 100 species of Majestic birds. It is also arguably considered one of the Most Beautiful Mountains In The World, with a Breathtaking View.
2. Mount Dalsnibba, Geiranger, Norway
A Journey to the Peak of Norway's Majestic Mountain
Perched at the Zenith of the Geiranger valley, Mount Dalsnibba commands a breathtaking view of the awe-inspiring Geirangerfjorden. This majestic peak is crowned with a blanket of snow, a sight that graces it even during the summer months and casts a mesmerizing reflection upon the fjord's crystalline waters.
Stretching over 10 miles in length, Geirangerfjord finds itself nestled within the prestigious West Norwegian Fjords UNESCO World Heritage Site. It's a realm where numerous waterfalls cascade into the fjord, contributing to its status as one of Norway's most frequented and photogenic fjords as well as the Most Beautiful Mountains In The World.
The journey to Mount Dalsnibba is a Natural Masterpiece, a winding road adorned with switchbacks that unveil dramatic panoramas at every turn. Upon reaching the summit, brace yourself for an exhilarating experience on the glass-fronted viewing platform, where you'll stand on the Cliff's edge with a spine-tingling view, daring you to test your nerves.
Exploring Iceland's Enigmatic Mountain of Legends
Kirkjufell, aptly named the "church mountain" due to its conical shape, stands as Iceland's most iconic and photographed landmark. This natural wonder graces the landscape of West Iceland's Snæfellsnes peninsula, its striking yellowish-green hues juxtaposed against a backdrop of picturesque waterfalls and sandy beaches. Rising to a height of 463 meters. Kirkjufell, a Majestic Beauty and natural marvel is Undoubtedly one of the most captivating mountain destinations on the planet.
For those seeking adventure, a hiking trail leading to Kirkjufell's summit awaits, a journey of approximately an hour and a half from Grundarfjörður. However, a word of caution: the steep and challenging terrain may be best tackled with the guidance of an experienced hiker if you're a novice in this domain. Kirkjufell is also considered one of The World's Most Beautiful Mountains.
4. Table Mountain, South Africa
Discover South Africa's Iconic Natural Wonder
Dominating the skyline of Cape Town, Table Mountain stands as an iconic and instantly recognizable landmark. Its distinctive feature, a flat tabletop summit, lends it its name. Beyond its unique topography, this mountain offers a spectacular vista that ranks among the most beautiful mountain scenes worldwide, all while teeming with diverse wildlife.
Table Mountain's age is a testament to its enduring grandeur, with a history that stretches back over 200 million years, marking it as one of the planet's oldest mountains. For travelers seeking a Breathtaking View of Mountains and Clouds, Table Mountain is an absolute must-visit destination.
Reaching the summit can be achieved in two ways: a swift ascent via the cable car, ideal for those traveling with senior family members as it takes merely five minutes, or the more traditional approach through the winding Platteklip Gorge hiking trail, a 2–3-hour trek tailored for hiking enthusiasts.
A Journey to Japan's Sacred Peak
In your quest for Ivory-clad snowy mountains, the serene Mount Fuji beckons – Japan's largest and most eminent peak. This majestic mountain, standing proudly at a staggering height of 3,775 meters, offers an abundance of snow, making it a winter wonderland of unparalleled beauty. Yet, Mount Fuji is more than just a natural marvel; it holds profound cultural significance in Japan.
For centuries, this sacred mountain has drawn pilgrims from both Shinto and Buddhist faiths. Mount Fuji's elusive nature, often concealed behind beguiling clouds, has an almost mystical allure. If you aspire to hike this iconic peak, you'll have the choice of four different routes to explore its heights.
It is a constant reminder of the nation's natural beauty and cultural significance, beckoning travelers to witness its grandeur and be immersed in the serene majesty of Japan's most iconic peak. Whether gazing at it from afar or conquering its heights, Mount Fuji is an essential stop for anyone seeking to explore the Land of the Rising Sun.
6. Mount Everest, Nepal/Tibet
A Journey to the Top of the World
No compilation of the world's most breathtaking mountain landscapes would be complete without an ode to Mount Everest. A source of immense pride for hikers and mountaineers alike, Mount Everest stands as the pinnacle of Earth's highest points. It reigns supreme as the principal peak within the Himalayas, a mountain range renowned for its sheer magnificence.
The awe-inspiring vistas of Mount Everest satiate the Unquenchable longing for adventure, offering a glimpse into a rich tapestry of cultural history and unspoiled natural elegance that has Enchanted Travelers from every corner of the globe.
7. Canadian Rockies, Canada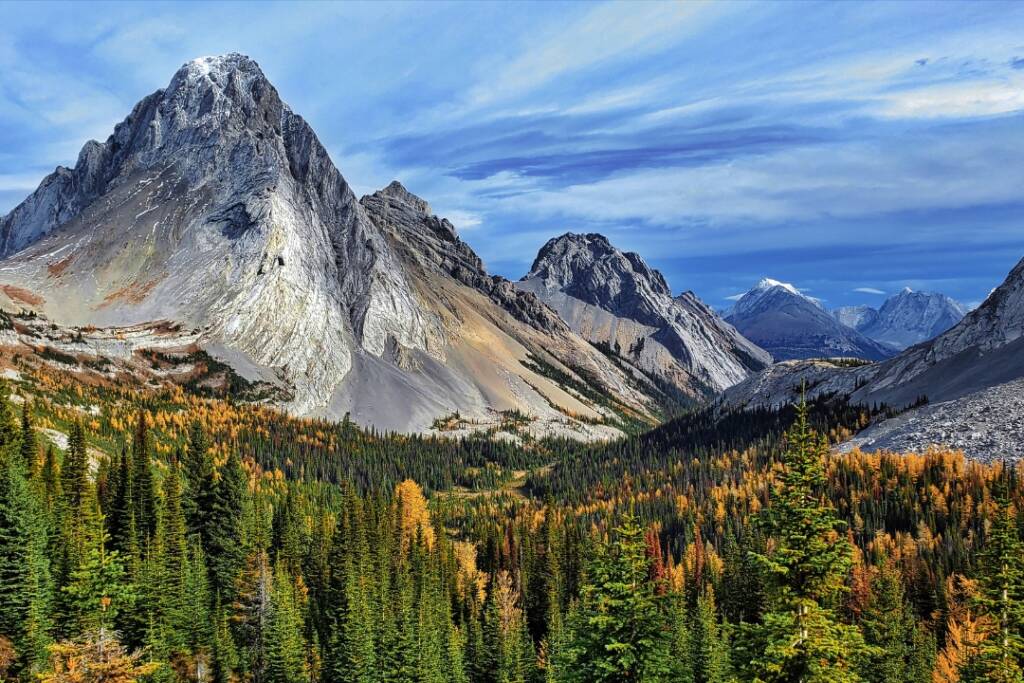 Journey Through the Canadian Rockies: A Majestic Beauty of the North
Stretching from Montana's southern reaches to the northern expanse of Alaska, the Canadian Rocky Mountains stand tall, ascending to heights of up to 12,000 feet and encompassing five national parks. These mountains exhibit a rugged beauty that surpasses their American counterparts. In Alberta, they rise dramatically from the plains, a scene that has endeared itself to Western filmmakers and artists alike. Undoubtedly, the Canadian Rockies rank among The World's Most Beautiful Mountain ranges on our planet.
In 1880, the discovery of hot springs transformed Banff National Park into a prominent spa destination, adding to the allure of these mountains. Their splendor reaches its zenith when mirrored in the tranquil, sapphire waters of Lake Louise, a gem within the park.
Embarking on a drive or train journey through the Rockies is an unforgettable odyssey. The snow-capped summits, majestic glaciers, and turquoise-blue lakes that grace the Icefield Parkway create an indelible tapestry of natural wonders, offering some of the most unforgettable sights North America has to offer.
8. Denali Mountain, Alaska, USA
Discovering the Beauty of Alaska's Tallest Peak
Standing as the Highest peak in North America, Denali pierces the sky at a staggering elevation of 20,310 feet, its summit adorned with an everlasting blanket of snow. This natural wonder becomes even more enchanting when its image is reflected in the serene waters of Reflection Pond below, rendering it a cherished destination for couples embarking on an Alaskan honeymoon.
While formerly known as Mount McKinley, Denali reclaimed its indigenous name in 2016. In one of the native languages of Alaska, Diinaalii translates to "The Tall One," an apt moniker for this colossal peak.
Denali's ascent is a High-altitude adventure that spans three and a half vertical miles from its base, a measurement that actually surpasses the height of Mount Everest. This makes Denali one of the World's Most Beautiful Mountains. Unlike Everest, which stands on a 14,000-foot high plain, Denali's base rests a mere 2,000 feet above sea level, accentuating its sheer mass and making it an even more imposing natural marvel.
9. Mitre Peak, Fiordland, New Zealand
A Towering Beauty of Fiordland, New Zealand
Named for its striking resemblance to a bishop's ceremonial hat, Mitre Peak graces the Breathtaking beauty of Milford Sound in New Zealand's South Island. As an emblem of Fiordland National Park, it proudly ascends to a soaring height of 5,560 feet, emerging dramatically from the tranquil waters below.
The steep, rugged terrain, cloaked in lush vegetation, renders climbing this mountain a formidable endeavor. However, the true splendor of Mitre Peak is best savored from the vantage point of a boat trip, a journey that also offers the chance to encounter seals, playful dolphins, and even the elusive Fiordland crested penguin.
Among the other marvels to behold in this Breathtaking View of Mountains and Clouds is the Lady Bowen Falls, a majestic waterfall that plunges more than 500 feet straight into the sea. Yet, amid these wonders, the gaze of all who visit inevitably returns to the awe-inspiring, sheer slopes of Mitre Peak, an enduring symbol of nature's regal beauty.
10. Cuernos Del Paine, Chile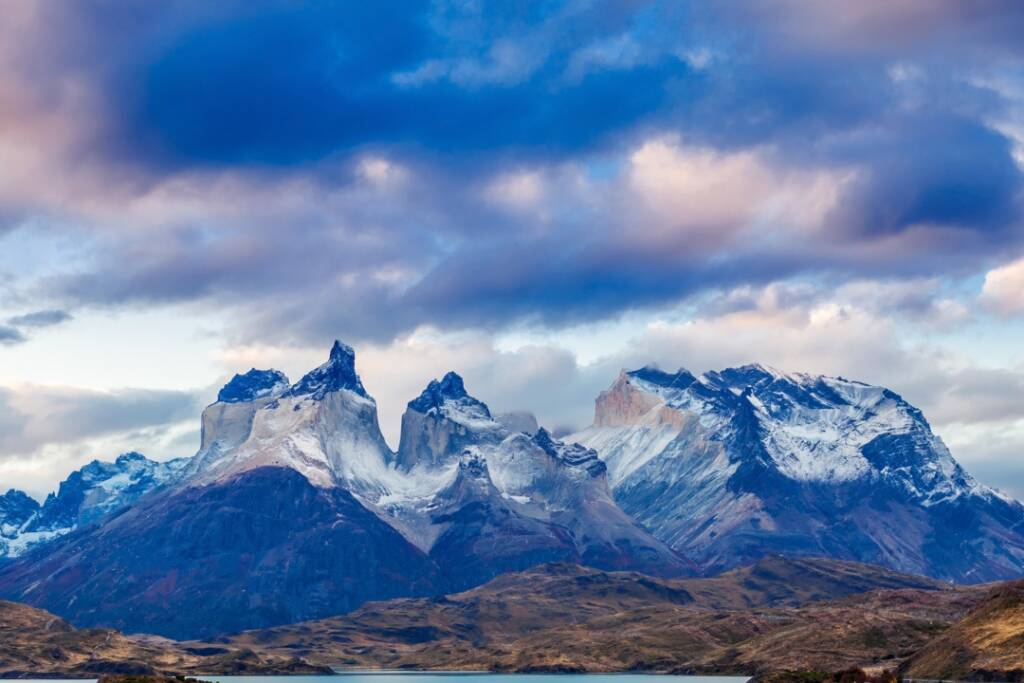 Cuernos del Paine: Exploring the Iconic Horns of Patagonia
The jagged, granite spires of Los Cuernos del Paine Reach for the celestial dome, standing resolute at heights exceeding 2,000 meters, rendering them among the most breathtaking mountain Scenery to behold. A journey to these mountains holds the promise of encounters with unique wildlife, including guanacos, elusive pumas, majestic condors, and the endangered South Andean deer, known as the huemul.
This mountain range secures its place among The World's Most Beautiful Mountains due to its ethereal landscapes, characterized by otherworldly shapes and a mesmerizing palette of colors. It beckons adventurers to embark on scenic hikes that etch vivid memories, painting the landscapes of their dreams long after they have returned. Cuernos Del Paine is nothing short of a masterpiece sculpted by nature's own hand.
Destination Planning:

If you have a limited number of days for your trip, carefully plan the specific mountain destinations you want to visit in advance. Research the best times to visit, trail options, and any permits or reservations required to avoid wasting time once you arrive.

Packing Essentials:

Pack your bags thoughtfully and lightly. Ensure you bring enough warm clothing, including layers, thermal wear, and waterproof gear to protect against unpredictable mountain weather. Don't forget sturdy hiking boots, a comfortable backpack, and essential outdoor equipment.

Mountain Guide:

Consider hiring a local mountain guide who is familiar with the area. A guide can enhance your experience by providing insights into the terrain, safety precautions, and local culture. They can also assist in navigating challenging trails.

Travel Insurance:

Prioritize purchasing comprehensive travel insurance that covers medical emergencies, trip cancellations, and unexpected mishaps. The rugged mountain environment can be unpredictable, and having insurance can provide peace of mind.

Hydration:

Mountain environments often have cold temperatures that can mask your body's need for hydration. Carry a refillable water bottle and remind yourself to drink regularly to prevent dehydration, which can be exacerbated at high altitudes.

Altitude Acclimatization:

If you're traveling to high-altitude destinations, plan for gradual altitude acclimatization. Ascending too rapidly can lead to altitude sickness. Take it slow, stay hydrated, and be aware of the symptoms of altitude sickness.

Emergency Preparedness:

Equip yourself with a basic first-aid kit and knowledge of basic wilderness first aid. Familiarize yourself with the location of nearby medical facilities and emergency contacts.

Leave No Trace:

Follow the principles of Leave No Trace to minimize your environmental impact. Respect the natural beauty of the mountains by packing out all trash, staying on designated trails, and adhering to local regulations.

Weather Forecast:

Keep an eye on weather forecasts for your mountain destination. Mountain weather can change rapidly, so it's important to be prepared for various conditions.

Responsible Travel:

Be a responsible traveler by respecting local customs and cultures. Support local communities by choosing sustainable and eco-friendly accommodations and activities.
By following these tips, you can ensure a safe, enjoyable, and memorable mountain adventure. Whether you're an experienced mountaineer or a first-time mountain traveler, thorough planning and preparation are essential for a successful trip.
Here, you can also check our E-Visa countries of Your Dream Travel Destination for which you can Apply Visa Online through our portal.